Are you one of those jet-age managers, always on the move, hard-pressed for time to meet deadlines? Do you feel that having a team of professionally trained and groomed youth team would deliver greater value to your customers?
Or, maybe you are a fresh graduate entrant into a professional work environment confronted with tough, competitive and complex demands from your employer — right from entry-level hiring processes to building a strong position for yourself among peers in your organization?
Or yet, as a progressive employer, you are constantly on the look out for innovative ideas to enhance employee productivity through creative usage of technology, tools and practices?
We, at PeopleCare, have on offer just the right solutions to address your unique needs.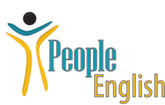 PeopleEnglish was formed to address the skill gaps in business and social communication by offering customised training programs to individuals, students and corporate. We believe Cambridge University is an authority in English language today and we have partnered with University of Cambridge while we introduce our services to the industry. Find out more about our services
here
PeopleEnglish was formed to address the skill gaps in business and social communication by offering customised training programs to individuals, students and corporate. We believe Cambridge University is an authority in English language today and we have partnered with University of Cambridge while we introduce our services to the industry. Find out more about our services
here